Whether you have a new puppy or an adult dog, if you're looking for help from basic training to tackling specific issues such as pulling on the lead to poor recall then book a 1-1 dog training session with Hanne Grice.
1-1 dog training can be booked in one hour slots either as a one-off session with Hanne, or depending on your specific needs, you can book a course of sessions which will be tailored to you and your dog. We offer in-person training, as well as live remote training via video conferencing – see example video below.
How do you know if you need 1-1 training rather than behavioural consultancy and what's the difference? Please checkout my article to help guide you on this.
Please note: in-person training is dependent on the restrictions regarding whether this is permissible due to COVID-19 at the time of booking.
Your training sessions will include:
Discussing you and your dog's individual needs
Creating a bespoke session programme to set you and your dog up for success
Practical training elements
Action plan and handouts to follow between your training sessions
The frequency of your sessions are flexible according to your dog's progress. 1-1 dog training is suited to all dogs of any age and for the greatest success, we do recommend a minimum of three sessions.
Note: there is a difference between dog training and behaviour services and how we can support you. To understand these differences, click here. Hence, if you are experiencing a number of pet problems or extreme behaviours, we recommend you have a look at a programme of behaviour modification with our dog behaviour consultation process. You can find out more about this by visiting our Consults page.
Training venues, services
For in-person 1-1 training, this typically takes place in the client's home
Alternatively, clients can also choose to have a remote/virtual 1-1 training session
Our Puppy & Dog School, where group classes and Behavioural Surgeries take place, is located in Hertfordshire
Face to face 1-1 training at the client's location is £80 per hour (non-refundable) or book a block of two sessions at £75 per hour, plus mileage (at 0.47p per mile)
Video conferencing 1-1 training is £80 per hour (non-refundable)
Self-paced Online Learning Hub packages range from £70 for courses, incl. handouts, videos, advice, practical training etc (non-refundable)
Payment should be made via BACS transfer, and payments should be made upon booking to secure your appointment.
Please read our Terms & Conditions.
Cancellations and no shows policy
72 hours' notice of Hanne Grice Pet Training & Behaviour business hours is required if you need to cancel or change your appointment. Our business hours are from 9am to 5pm Mondays to Fridays. Failure to do so will result in you being charged 50% of the full fee. This also applies for no show appointments.
Interested in 1-1 Training?
Get Hanne's Book
Playing With Your Dog will help any dog owner work out the games that are best suited for their pet to play throughout his life, from puppyhood to old age. The book also shares some tricks for all ages, group activities, and recommended toys that dogs will enjoy.
Buy now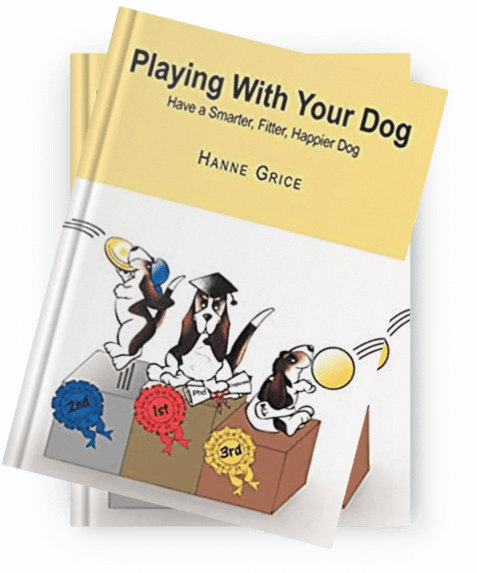 Hanne is incredibly knowledgeable and skilled…her 1-1 course has been fantastic for our situation and our puppy is responding to it so well. I honestly don't know what I would of done without her support. Thank you so much.
Rachael Warner
Had a fantastic session with Hanne today – she really knows her stuff. She had our foster dog – and us – sussed in 5 minutes! So many helpful tips, easy-reference handouts and practical demos. Felt very inspired and highly recommend.
Clare Clarke
Hanne is amazing. Her advice has transformed our relationship with our boisterous Labrador.
Ian Hughes
About Hanne
Hanne is a Clinical Animal Behaviourist, trainer, published author, Animal Sciences Lecturer and founder of the multi-award winning company Hanne Grice Pet Training & Behaviour.
News
Read the latest news from Hanne and the team, animal research news and top tips relating to animal behaviour and cognition in companion animals.