Kids Around Dogs – Overcoming their fear
Do you have a child or know of a child that has a fear of dogs? We can help…
Technically called cynophobia which comes from the Greek words that mean "dog" (cyno) and "fear" (phobia); a person who has cynophobia experiences a fear of dogs that is considered both irrational and persistent. The fear is very real – it is more than just feeling of being uncomfortable with barking dogs, or just being around dogs. Instead, this fear may interfere with daily life and trigger a number of symptoms, like trouble breathing or dizziness. It is estimated that phobias like cynophobia affect some 7 to 9 percent of the population.
Hanne is certified to implement the Protocol to Overcome the Fear of Dogs in Kids.
What does this mean?
Hanne is qualified to work professionally with children who are scared of dogs and need help to conquer their cynophobia, using cognitive behavioural training. The programme is aimed specifically for children, working alongside their parents and comprises of a 10-week progressive programme.
10-week course

7 online sessions
2 face to face sessions
1 face to face bonus task
Sessions are recorded for you to keep

Summary emails and resources
Support throughout the course
Graduation certificate and KAD pin
Price: £420 plus mileage
Areas covered: parts of Hertfordshire, Bedfordshire, Buckinghamshire and Oxon
This certification supports the years of work Hanne has undertaken helping families and their dogs to set them up for success, studies in the pre- and post-partum owner-dog relationship, as well presenting to numerous primary and secondary school children about safety around dogs and how to keep pets happy & healthy in support of the Blue Cross.
If you would like some support, please get in touch, or book a KAD programme for your child
See the short video below for an overview of why educating children about dogs, about their behaviour and body language can be beneficial to them, especially those that are fearful. Duration: 2.14 minutes.
A Success story
Feedback from the mum of a little girl Hanne worked with who was scared of dogs.
Mum told Hanne that her daughter would try to get away from dogs in any way possible, even by stepping on the road, putting herself in danger.
In the feedback from the family, the mum recalled a particularly upsetting event, which shows how the fear of dogs can be debilitating to all party involved, which was when her daughter was very nervous to go on a school trip to the park, as she was aware that there would be dogs off their leads. She was crying the night before, saying she did not want to go and begging her mum to go with her. After completing the protocol, mum was asked if their -family- life was changed in any way by their child overcoming her fear of dogs, and this was the reply:
"I no longer feel worried for my daughter, if she is not with me. For example, on a school trip. A huge change is that my daughter had a sleepover at a friend's house and they have a cockapoo! The family kept an eye on their dog for my daughter but at one stage, my daughter was on one sofa and the cockapoo was on another, with no lead! I was so shocked but very proud to hear this! Not only have you changed how my daughter behaves around dogs, you have changed how she behaves around cats too. She is now in love with a cat (Ben) that is always loitering around her school. If she sees Ben, she insists on stroking him for ages. I don't think that would have ever happened, had she not attended your course."
And mum even went on to say (about Hanne and the protocol) :
"I think your process is brilliant – first meeting you and feeling comfortable over Zoom, focusing on theory. You have a great way of letting the child the correct answer to a question, if they answer incorrectly, without making them feel like they got it wrong. When you slowly introduced Hattie and your cats in the Zoom background, it was done so seamlessly, my daughter loved seeing them. I feel like this prepared her so well, for finally meeting Hattie in person. My expectation of your course, was simply for the fear to be alleviated enough so that my daughter did not step out on the road when she passed a dog or cat. I had no expectations of my daughter touching Hattie or getting close to her. When my daughter stroked Hattie in the final face-to-face session, I wanted to cry with happiness and pride.
I cannot thank you enough for your support and I would recommend anyone with children who are frightened of dogs (or cats), to attend your course."
During COVID-19: Face to Face Consultations and Video Conferencing
As a result of the current COVID-19 crisis, behaviour consultations will be delivered in accordance to recommended Government guidelines at the time. We can also provide consultancy via remote video conferencing if this is a preferred option for you, and is helpful for those who are self-isolating but want to continue with their behavioural programme. Video conferencing enables Hanne to see you and your dog in your natural home environment and avoids placing your dog under any stress.
Want to help your child overcome their fear?
Get Hanne's Book
Playing With Your Dog will help any dog owner work out the games that are best suited for their pet to play throughout his life, from puppyhood to old age. The book also shares some tricks for all ages, group activities, and recommended toys that dogs will enjoy.
Buy now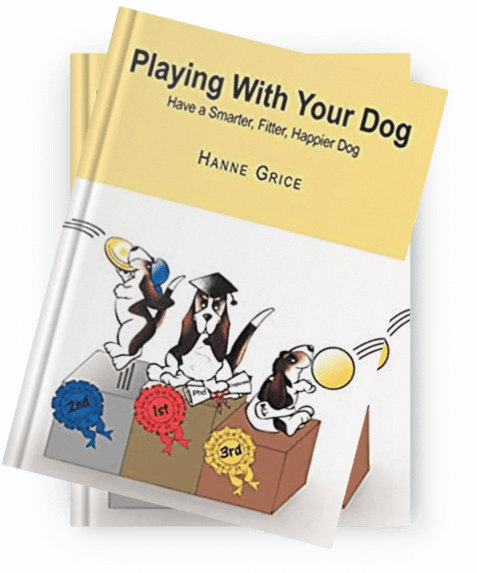 Hanne is a 'next level' behaviourist. She is extremely knowledgeable and highly qualified… Her services are very good value for money, as I have had many hours of zoom calls, and detailed, 'my dog' specific information and exercises, together with critique of me 'out in the field'. I highly recommend.
Alison Mirpuri