Kids Around Dogs – Overcoming their fear
Do you have a child or know of a child that has a fear of dogs? We can help…
Technically called cynophobia which comes from the Greek words that mean "dog" (cyno) and "fear" (phobia); a person who has cynophobia experiences a fear of dogs that is considered both irrational and persistent. The fear is very real – it is more than just feeling of being uncomfortable with barking dogs, or just being around dogs. Instead, this fear may interfere with daily life and trigger a number of symptoms, like trouble breathing or dizziness. It is estimated that phobias like cynophobia affect some 7 to 9 percent of the population.
Hanne is certified to implement the Protocol to Overcome the Fear of Dogs in Kids.
What does this mean?
Hanne is qualified to work professionally with children who are scared of dogs and need help to conquer their cynophobia, using cognitive behavioural training. The programme is aimed specifically for children, working alongside their parents and comprises of a 10-week progressive programme.
10-week course

7 online sessions
2 face to face sessions
1 face to face bonus task
Sessions are recorded for you to keep

Summary emails and resources
Support throughout the course
Graduation certificate and KAD pin
Price: £360 plus mileage
Areas covered: parts of Hertfordshire, Bedfordshire, Buckinghamshire and Oxon
This certification supports the years of work Hanne has undertaken helping families and their dogs to set them up for success, studies in the pre- and post-partum owner-dog relationship, as well presenting to numerous primary and secondary school children about safety around dogs and how to keep pets happy & healthy in support of the Blue Cross.
If you would like some support, please get in touch, or book a KAD programme for your child
During COVID-19: Face to Face Consultations and Video Conferencing
As a result of the current COVID-19 crisis, behaviour consultations will be delivered in accordance to recommended Government guidelines at the time. We can also provide consultancy via remote video conferencing if this is a preferred option for you, and is helpful for those who are self-isolating but want to continue with their behavioural programme. Video conferencing enables Hanne to see you and your dog in your natural home environment and avoids placing your dog under any stress.
Want to help your child overcome their fear?
Get Hanne's Book
Playing With Your Dog will help any dog owner work out the games that are best suited for their pet to play throughout his life, from puppyhood to old age. The book also shares some tricks for all ages, group activities, and recommended toys that dogs will enjoy.
Buy now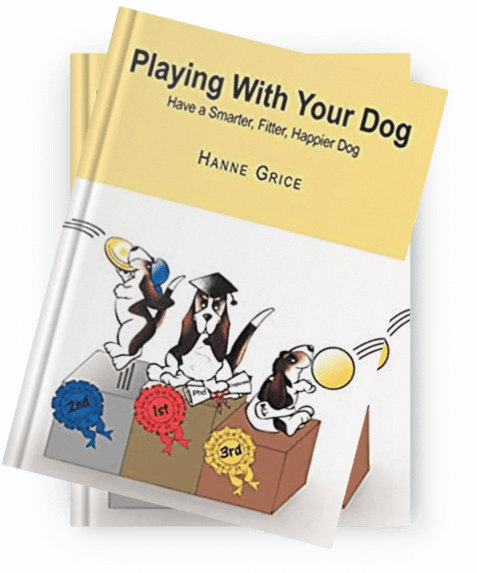 Hanne is a 'next level' behaviourist. She is extremely knowledgeable and highly qualified… Her services are very good value for money, as I have had many hours of zoom calls, and detailed, 'my dog' specific information and exercises, together with critique of me 'out in the field'. I highly recommend.
Alison Mirpuri