Hanne Grice Dip, BA (Hons), MSc (Distinction) ABTC-CAB – is a Clinical Animal Behaviourist, Training Instructor, published author, educationalist and founder of the award winning pet behaviour company Hanne Grice Pet Training & Behaviour.
A lifetime love of animals led Hanne to start the business. From pet care to helping problem pets, Hanne wanted to create a company that gave owners a place to turn to for expert advice, up-to-date training with first class service.
In 2006, Hanne launched the business and she has since helped several thousand furry clients, and has worked with famous faces from the world of sport, film and entertainment. Hanne has won a number of awards for her work, has represented female entrepreneurs presenting in front of Ministers and government bodies. She is the author of Playing With Your Dog, creator of the Pet Behaviour Diary and online courses, contributes to a number of printed and online publications, including Veterinary Practice, plus podcasts and more, sharing advice on canine and feline behaviour, animal care and management.
Hanne has given expert advice on the BBC Breakfast sofa, BBC The One Show, regularly on BBC Radio 5 Live, Talk Radio, Talk Sport, Times Radio, Radio Dacorum, plus BBC Three Counties. Hanne also runs workshops for owners and pet professionals on various topics.
Hanne works with all breeds of dogs, cats and other small animals, helping with all sorts of problem behaviours with a calm, positive training approach. She runs a Puppy & Dog School in Hertfordshire, provides both in-person and virtual training and behaviour services, as well as lecturing for educational organisations. Hanne sits on the Board of Trustees for the Animal Behaviour and Training Council (ABTC), is an assessor for the Association of Pet Behaviour Counsellors (APBC), and is a member of several organisations, working to their Code of Practice – click here to find out more.
Hanne is a full member of the Association of Pet Behaviour Counsellors (APBC); Animal Behaviour & Training Council (ABTC); Pet Professional Guild (PPG); The Canine Behaviour and Training Society (TCBTS); Association of Professional Dog Trainers (APDT USA); supporting member of the International Association of Animal Behavior Consultants (IAABC). Hanne is also a Kids Around Dogs Approved Trainer – certified in Protocol to Overcome the Fear of Dogs in Kids. She is a certified Pet Bereavement Counsellor, Victoria Stillwell Academy Dog Trainer Course Mentor and Faculty Advisor, and certified Neurolinguistic Practitioner. Hanne is also an Animal Sciences Lecturer at University Centre Bishop Burton responsible for the MSc Applied Animal Behaviour & Training – Human Animal Interactions & Psychology plus Animal Behaviour Consulting modules, and MSc Animal Behaviour & Welfare degree. Hanne has lectured for FdSc Applied Canine Behaviour and Training – Advanced Dog Training module Year 3, and Year 1 students, and peer-reviews scientific papers put forward for publication to the journal Society & Animals, and Wiley Publishing. In her spare time, Hanne supports the Blue Cross as a Volunteer Educational Speaker.
Hanne is mum to two young children and has various pets. Her areas of special interest include pet-owner relationships pre- and post-partum, history and human-animal relationships.
Get Hanne's Book
Playing With Your Dog will help any dog owner work out the games that are best suited for their pet to play throughout his life, from puppyhood to old age. The book also shares some tricks for all ages, group activities, and recommended toys that dogs will enjoy.
Buy now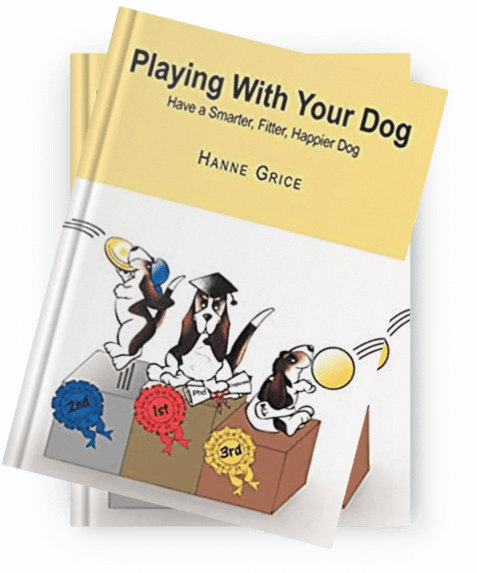 This lovely lady knew from the beginning of the phone call that my mother was out of her area but she spent a long time discussing our rescue dog's issues. She gave her time and expertise, and the suggestions she made instantly helped. What an expert. Thank you so much.
Felicity Amswych
Areas we cover
Our in-person behavioural consultancy services cover parts of the Hertfordshire, Buckinghamshire, Bedfordshire and Oxon areas.
News
Read the latest news from Hanne and the team, animal research news and top tips relating to animal behaviour and cognition in companion animals.