Mentor Support and Services
Need mentoring support or business advice?
Whether you are new to the pet behaviour industry, looking to study animal behaviour or train companion animals, have a daycare or thinking about launching a new pet-related service and you want support then we can help.
Hanne provides mentoring and consultancy support for students, animal professionals and business owners. She has mentored numerous students and pet professionals over the years both nationally and internationally, who have gone on to achieve great success. 
As a Mentor and Faculty Advisor for Victoria Stilwell Dog Training & Behaviour Academy, Animal Sciences Lecturer, Module Leader and Supervisor for MSc students, Hanne has vast experience of helping students of animal behaviour, welfare and training.
Hanne advises businesses such as groomers, day cares, dog walkers, catteries, and retail stores/cafes on how to create environments that set up pets and their owners up for success.
Packages are based on either student or business consultancy and the support provided is dependent on the individual's needs. For example, it may include
Honing your animal practitioner skills, such as developing a behaviour modification report and writing
Student services such as understanding critical evaluation and analysis
Helping discuss case loads
Gain a better understanding of the development of problem behaviours across a range of species
Reviewing business practices and addressing the needs of the customer and animals and so on…
Hanne's business acumen, customer service excellence and professionalism has been recognised both within the animal industry and wider business community on a local and national level, receiving numerous awards since the company started in 2006, including Best New Business, Animal Behaviourist of the Year, Dog Trainer of the Year, Best Animal Services, and awards for Best Customer Service.
In addition, Hanne has provided schools with support relating to introducing school dogs, as well as companies looking to create and establish programmes which enable colleagues to bring their dogs into work.
Hanne's background, which involved working closely with Board Directors, writing, producing TV, plus leading PR and Internal Comms campaigns, means Hanne has a unique skill set. These skills, together with her understanding of human & animal behaviour and psychology plus production complement one another, whether that is working for large-scale corporations or within the animal-keeping and animal entertainment industry.
Areas of specialism include internal and external communications, engagement, stakeholder management, PR, video production, written communications, animal behaviour, animal welfare and management, human-animal interactions, and psychology. Hanne is also a certified NLP practitioner.
"This service is aimed at individuals or organisations that want to 'pick my brain', gain knowledge and understanding of the animal and behaviour training industry, as well as best-practice, or you might be thinking about launching a business but are hesitating, and those who want to bounce their ideas around with an industry-expert, in confidence."
Check out Hanne's 'Animal Practitioner Series' under the Advice section of this website, which covers a range of topics to help animal behaviourists, trainers and pet professionals hone their effective consulting skills with clients. Look out for her certified forthcoming workshop on Human Behaviour Change for Animal Professionals via Hanne's online Learning Hub too!
Students – hourly mentoring rate: £70 per hour (virtual only)
Business consultancy – half-day (4hrs) rate: £450 (plus mileage if in-person)
For more information on professional mentoring and business consultancy support, please contact us:
Get Hanne's Book
Playing With Your Dog will help any dog owner work out the games that are best suited for their pet to play throughout his life, from puppyhood to old age. The book also shares some tricks for all ages, group activities, and recommended toys that dogs will enjoy.
Buy now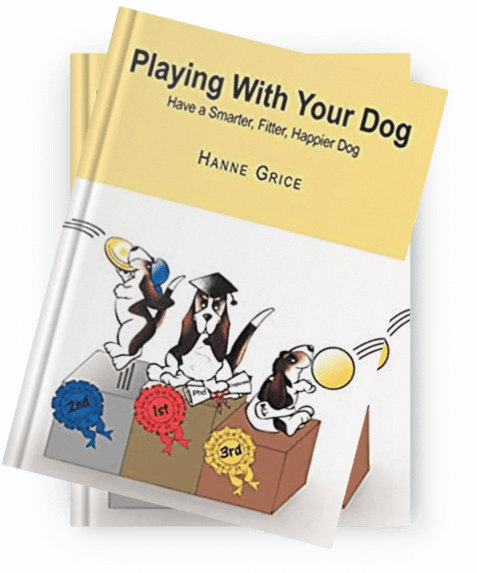 Hanne has been an amazing resource whilst I have been studying my canine behaviour diploma. She has encouraged me to explore my answers for myself whilst offering advice and help where necessary… Her help and advice has been invaluable. Hanne's knowledge and experience is second to none and I would highly recommend her for any training and behavioural needs.
Katherine Foster
I really enjoyed working with Hanne as my mentor. She was very supportive, gave great advice and helped me achieve the results I needed to qualify for my certified dog trainer status at the Victoria Stillwell Academy. Thanks so much.
Lisa West-Robinson
About Hanne
Hanne is a Clinical Animal Behaviourist, trainer, published author, Animal Sciences Lecturer and founder of the multi-award winning company Hanne Grice Pet Training & Behaviour.
News
Read the latest news from Hanne and the team, animal research news and top tips relating to animal behaviour and cognition in companion animals.