Behavioural Consults – Other Animals
We have been helping creatures great and small, furry, feathered and scaly since 2006.
As a Clinical Animal Behaviourist, Hanne works with a range of species including rabbits like Charlie and Ginger.
Rabbit behavioural support
The domestic rabbit is one of the few species commonly kept as companion animals and who are also used for research and are farmed for their meat and fur. After the dog and cat, the rabbit is the third most common mammalian pet in the UK, numbering 1.1 million and they make up two per cent of pets owned per household, according to Pet Food Manufacturers Association (2021).
Rabbits have a superb sense of smell, have long-distance vision and sensitive hearing that helps alert them to potential danger. The domestic rabbit's life expectancy is around eight to twelve years compared to the wild rabbit which averages one year. Therefore, having a rabbit should be considered a long-term commitment just as with a dog and cat.
Rabbits are herbivores, and their diet needs to be 85% hay or grass, 5% pellets, 10% vegetables and safe plants with fresh drinking water always available. Hay is extremely important for rabbit health, yet Rooney et al. (2014) conducted a study involving 1,254 rabbit owners and found that 98% of owners did feed hay to their rabbits but for 10% this was less than daily, which is cause for concern.
Rabbits and other small animals can exhibit a number of behavioural problems, and these may include but are not limited to:
Over-grooming
Aggression such as fighting, biting, scratching
Fears and phobias
Stereotypies
Many of these behaviours may stem from fear. Some of the behavioural signs associated with fear include:
Crouching
Hiding away
Huddled in a corner
Restlessness
Being very still, nose twitching fast when handled
Heavy breathing
Grunting
Squealing or screaming when handled
Boxing and biting when owner in their environment
Destruction of their accommodation
Thumping the ground
Rabbit and other small animal behavioural consultancy services are available.
Typically, a phone call to briefly discuss your case and confirm how the process works
You will be sent a pre-assessment form to complete and return a minimum of seven working days before your first appointment
Depending on the case, the consultation is, typically, one session lasting around 1.5 to 2 hours.
A follow up session[s] can be booked and are usually around 1 hour.
Your animal's daily routine, history and family's expectations of your pet will be discussed and your pet's behaviour observed either in-person or via video conferencing, and or via video previously filmed by the owner.
Hanne will help you to understand why your pet is displaying unwanted behaviours and more importantly, how to deal with them.
An accurate behavioural diagnosis and treatment plan will be provided.
Follow up letter to the referring veterinary surgeon.
Telephone, video and email back up support will be available to you following your consultation for up to six weeks, so you have the support and coaching you need to ensure success.
The in-person 'other animals' consultation fee is £350, virtual consultancy is £300. This includes:
Your consultation.
Mileage (within an 8-mile radius) where a face-to-face session has been conducted.
Full set of notes and behaviour modification action plan.
Back-up advice and on-going coaching via email and telephone for approximately six weeks.
Access to early bird offers, downloadables and printed resources.
Any follow-up video conferencing sessions are charged out at £80 per hour for one appointment or £75 per hour for blocks of 2 or more appointments, plus mileage for any in-person appointments. Payment should be made via BACS transfer prior to the consultation to secure your booking.
Mileage outside the 8 mile radius of Tring is charged at 0.47p per mile for any face-to-face sessions.
Please read our Terms & Conditions.
72 hours' notice of Hanne Grice Training & Behaviour business hours is required if you need to cancel or change your appointment. Our business hours are from 9am to 5pm Mondays to Fridays. Failure to do so will result in you being charged 50% of the full fee. This also applies for no show appointments.
Other animals – general
Many animals can be trained, whether that is for cooperative behaviours such as grooming and health checks or to provide for enrichment to the animal's health and well-being as well as improve the owner-pet relationship. Some of the animals Hanne has worked with include Rea and smaller birds, skunks, marmosets, tortoises, and meerkats. Over the years, Hanne has also kept a number of more unusual pets including her mynah bird Morris, Giant African Snails and stick insects, to name a few.
The range of animals Hanne has worked with includes species located at University Centre Bishop Burton where Hanne is a Animal Sciences Lecturer, lecturing in Animal Behaviour Consulting, and Human-Animal Interactions & Psychology for the MSc Applied Animal Behaviour & Training degree, and MSc Animal Behaviour & Welfare degree.
Experiencing problems with your pet?
Get Hanne's Book
Playing With Your Dog will help any dog owner work out the games that are best suited for their pet to play throughout his life, from puppyhood to old age. The book also shares some tricks for all ages, group activities, and recommended toys that dogs will enjoy.
Buy now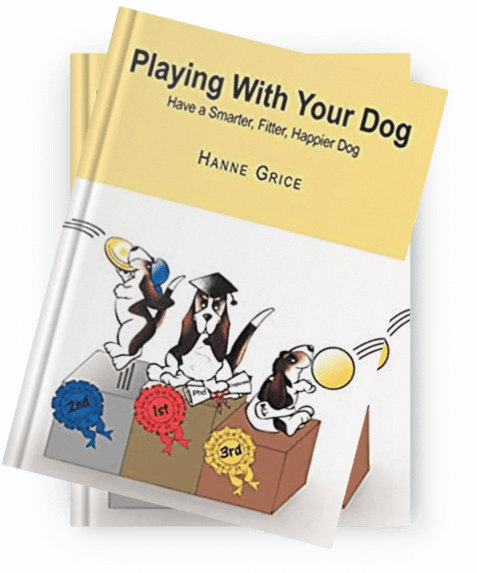 Hanne's classes (and general advice) have been invaluable to us – the techniques are all simple to learn and work on. Definitely recommend.
Jonny Greenberg
About Hanne
Hanne is a Clinical Animal Behaviourist, trainer, published author, Animal Sciences Lecturer and founder of the multi-award winning company Hanne Grice Pet Training & Behaviour.
News
Read the latest news from Hanne and the team, animal research news and top tips relating to animal behaviour and cognition in companion animals.