Behavioural Consults – Cats
Behavioural consultancy is for owners that are experiencing problems with their cats or need guidance on issues such as:
Obsessive compulsive disorders such as excessive grooming

Inappropriate elimination around the home (fouling and or spraying)

Feline aggression

Damage to property (furniture)

New cat to resident dog / new dog to resident cat / new cat to resident cat[s] introductions

Multi-cat household issues

Confidence building in nervous felines
Typically, a phone call to briefly discuss your case and confirm how the process works
You will receive a pre-assessment form to complete and return a minimum of seven working days before your first appointment
Depending on the case, the consultation is, typically, one session lasting around 1.5 to 2 hours
A follow up session[s] can be booked and are usually around 1 hour
Your cat's daily routine, history and family's expectations of your cat will be discussed and your pet's behaviour observed either in-person or via video conferencing, and or via video previously filmed by the owner
Hanne will help you to understand why your cat is displaying unwanted behaviours and more importantly, how to deal with them
An accurate behavioural diagnosis and treatment plan will be provided
Follow up letter to your referring veterinary surgeon
Telephone, video and email back up support will be available to you following your consultation for up to six weeks, so you have the support and coaching you need to ensure success
The in-person consultation fee is £350, virtual consultancy is £300. This includes:
Your consultation
Mileage (within an 8 mile radius) where a face to face session has been conducted
Full set of notes and behaviour modification action plan
Back-up advice and on-going coaching via email and telephone for approximately six weeks.
Access to early bird offers, downloadables and printed resources.
Any follow-up video conferencing sessions are charged out at £80 per hour for one appointment or £75 per hour for blocks of 2 or more appointments plus mileage if in-person (see below). Payment should be made via BACS transfer prior to the consultation to secure your booking.
Outside the 8 mile radius of Tring is charged at 0.47p per mile for any face to face sessions.
Please read our Terms & Conditions.
72 hours' notice of Hanne Grice Training & Behaviour business hours is required if you need to cancel or change your appointment. Our business hours are from 9am to 5pm Mondays to Fridays. Failure to do so will result in you being charged 50% of the full fee. This also applies for no show appointments.
During COVID-19: Face to Face Consultations and Video Conferencing
As a result of the current COVID-19 crisis, behaviour consultations will be delivered in accordance to recommended Government guidelines at the time. We can also provide consultancy via remote video conferencing if this is a preferred option for you, and is helpful for those who are self-isolating but want to continue with their behavioural programme. Video conferencing enables Hanne to see you and your cat in your natural home environment, discuss any questions and give a diagnosis and recommend treatment plans.
Experiencing problems with your cat?
Get Hanne's Book
Playing With Your Dog will help any dog owner work out the games that are best suited for their pet to play throughout his life, from puppyhood to old age. The book also shares some tricks for all ages, group activities, and recommended toys that dogs will enjoy.
Buy now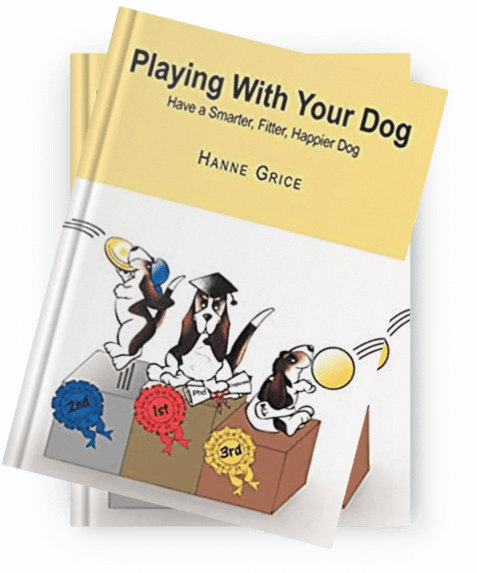 Hanne helped us with the transition of letting our adolescent cats outside. We were worried about how we could introduce the outdoors to our cats as we live near a busy road. Hanne provided a structured plan which included management strategies, as well as a cat training plan for us to work on, in order to help build a positive association to specific areas that were safe for them to venture.
Sarah Price
Hanne helped make our wedding special. My mum knew how important it was for my cat to be involved in our big day and got in touch with Hanne about this. She worked with Genghy, ensuring he would be calm and cope well on the day. Thanks so much Hanne.
Anna Gillmore
About Hanne
Hanne is a Clinical Animal Behaviourist, trainer, published author, Animal Sciences Lecturer and founder of the multi-award winning company Hanne Grice Pet Training & Behaviour.
News
Read the latest news from Hanne and the team, animal research news and top tips relating to animal behaviour and cognition in companion animals.