Behavioural Consults – Dogs
Behavioural consultancy is for owners that are experiencing problems with their dogs, such as:
Dog to dog aggression

Dog to human aggression

Resource guarding

Separation-anxiety related problems

Noise phobias

Destruction

Stereotypies

Excessive barking
Typically, a phone call to briefly discuss your case and confirm how the process works
You will receive a pre-assessment form to be completed and returned at least seven working days prior to your first appointment
Depending on the case, the first consultation meeting typically lasts around 2 hours
Follow-up appointments are usually around 1.5 hours and spaced approximately 7-10 days for session 2, then 14-21 days for session 3
If you are self-isolating we will hold your appointments via video conferencing
If you are not self-isolating then appointments can be in-person and other members of your household can be present depending on the COVID-19 recommendations at the time of your appointment
Your pet's daily routine, history and family's expectations of your dog will be discussed
Any footage of your pet's behaviour will be observed and discussed
Hanne will help you to understand why your dog is displaying unwanted behaviours and, importantly, how to deal with them
An accurate behavioural diagnosis and treatment plan will be provided
Video, telephone and email back-up support will be available to you during the consultation process and up to six weeks following your last consultation appointment, so you have the support and coaching you need to ensure success
While most dogs respond well to behaviour modification programmes after the initial consultation, some pets may need extra help. That's why the behaviour consultation process includes three consultation appointments as part of your treatment plan
Video behavioural consultancy is £350 (non-refundable)
In-person behavioural consultancy is £450 (non-refundable)
Preferred payment method is via BACS transfer and payment for the behavioural consultation programme should be made upon booking to secure your appointments as per our Terms & Conditions.
What's included in the behavioural consultancy package?
The behavioural consultation process includes:
Preparation of your case file (approx. 3hrs)
Initial email[s] and phone call to discuss your case (approx. 30mins) at first point of contact
Video conference or in-person consultation appointments depending on which option you book (x 3 sessions)
Probable behavioural diagnosis and treatment plan pack (supplied in the initial consultation appointment)
Follow-up letter to your referring veterinary surgeon
Back-up notes for each follow-on session (2 & 3)
Advice and on-going coaching via email, videos, telephone / web conferencing between sessions if desired
Mileage for each session (within an 8 mile radius) where face to face appointments
Access to the latest articles from Hanne Grice including online blogs, downloadables, newsletters and more
Early bird invitations to Hanne Grice's behaviour and training workshops, and printable resources
Depending on the case, additional visits may be recommended and or required after our review at session 3. These are charged at £80 per hour for one face-to-face or virtual session or at £75 per hour for blocks of 2 or more in-person or virtual appointments, plus mileage outside an 8 mile radius.
Mileage outside the 8 mile radius of Tring is charged at 0.47p per mile.
72 hours' notice of Hanne Grice Training & Behaviour business hours is required if you need to cancel or change your appointment. Our business hours are from 9am to 5pm Mondays to Fridays. Failure to do so will result in you being charged 50% of the full fee. This also applies for no show appointments.
During COVID-19: Face to Face Consultations and Video Conferencing
As a result of the current COVID-19 crisis, behaviour consultations will be delivered in accordance to recommended Government guidelines at the time. We can also provide consultancy via remote video conferencing if this is a preferred option for you, and is helpful for those who are self-isolating but want to continue with their behavioural programme. Video conferencing enables Hanne to see you and your dog in your natural home environment and avoids placing your dog under any stress.
Experiencing problems with your dog?
Hanne Grice Art Gallery
Pictures created by some of Hanne's young client owners.
Get Hanne's Book
Playing With Your Dog will help any dog owner work out the games that are best suited for their pet to play throughout his life, from puppyhood to old age. The book also shares some tricks for all ages, group activities, and recommended toys that dogs will enjoy.
Buy now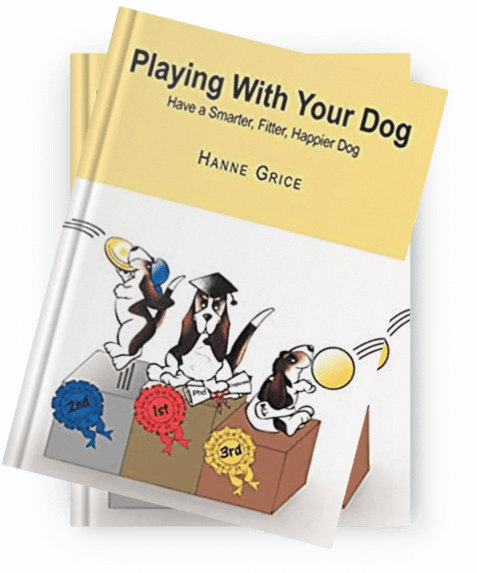 We asked Hanne to help us with issues we'd encountered with our nearly 2 year old Working Cocker. The three sessions we had were incredibly useful and we learnt so much, plus supporting our other Cocker puppy and old dog too. Hanne is very easy to work with and super helpful. Thank you!
Liam McGrath
Hanne is a 'next level' behaviourist. She is extremely knowledgeable and highly qualified… Her services are very good value for money, as I have had many hours of zoom calls, and detailed, 'my dog' specific information and exercises, together with critique of me 'out in the field'. I highly recommend.
Alison Mirpuri
About Hanne
Hanne is a Clinical Animal Behaviourist, trainer, published author, Animal Sciences Lecturer and founder of the multi-award winning company Hanne Grice Pet Training & Behaviour.
Advice
Read the latest advice from Hanne and the team on how to make sure you and your pet(s) are the happiest you can be.