Every owner wants a happy, sociable and contented dog. Give your pet the best start by joining our Puppy & Dog School. We run a number of courses to set you and your dog up for success, run by certified trainers.
Stage 1
Aimed at newly vaccinated puppies – from approximately 10+ weeks of age.
Stage 2
For dogs approximately 6+ month olds – when puppies typically enter their 'teens'.
Stage 3
For dogs with intermediate training & Stage 2 graduates looking to progress their skills.
There are three stages of course:
Stage 1 Course – newly vaccinated puppies up to approximately 5 months
The course gives you and your puppy:
our group classes give your pup the opportunity to meet others in a calm & controlled environment
our online classes help advise on socialising your puppy during COVID-19 and avoid unwanted behaviours post-lockdown
understanding of how dogs think and the importance of not pressuring your pup
the skills to avoid unwanted behaviours
basic training from recall to walking to heel
the tools you need to ensure you have a long and happy relationship with your dog
You will also receive handouts & summary email reminders each week.
Stage 2 Course – dogs aged 6+ months that are graduates of Stage 1 or had basic training (pre-requisites are required)
This course helps your young dog:
get to grips with further training skills
understand crisis management
introduce distance control
learn placement cues
and learn some fun tricks too!
This course is essential as most puppies reach puberty around this time, so it keeps them 'on track'. You will also receive handouts & summary email reminders each week.
Stage 3 Course – dogs that have graduated from Stage 2 or have had intermediate training
This course helps you and your dog…
learn to better manage your dog's energy and enthusiasm
capture your dog's attention
increase the reliability of responses
learn distance control including 'stays' with heavy distraction
maintain those skills already learnt
continue your understanding of how dogs think, learn and what motivates them
You will also receive handouts & summary email reminders each week.
Not sure which course is right for you or your dog?
Contact us and we'd be delighted to help recommend the right training plan for you.
Our courses are designed to help you understand your dog from puppyhood and beyond. We help you understand what drives your dog's behaviour, teach you how to promote wanted behaviour and tackle the unwanted stuff too, all in a calm and controlled way.
We focus on positive reinforcement methods, utilising various training methods for speed of acquisition of behaviours, reliability and greater dog-owner focus. Numerous studies highlight the fall-out associated with aversives used in 'traditional' training (e.g. yanking the lead, shouting, pushing the dog into position etc), this can include increased risk of owner-directed aggression and anxiety. Compulsion methods together with equipment including choke collars and half-check are strictly forbidden at Puppy & Dog School. We ask that all dogs are fully vaccinated and wormed – a declaration form will be sent to you as part of the sign-up process.
How long do the courses run for?
Our group classes at Nora Grace Hall and Hastoe Village Hall are typically six weeks, as well as our Online classes.
When are the classes held?
Group classes are held Mondays evenings at the Nora Grace Hall in Tring, HP23 5BA, and Fridays at Hastoe Village Hall in Hastoe, HP23 6LU.
How large are the classes?
Our class sizes are kept small to ensure you and your dog are given the attention you deserve in an calm environment.
I am unable to attend the classes in person, is there anything else I can try?
Yes we have the Puppy Package via my online Learning Hub. This will give you all you need from prepping before you get your puppy, settling them in during the early days, through to tackling typical unwanted puppy problems from play biting, jumping up, teaching them to cope with being home alone, to practical training such as recall, loose lead and more. This is a one-stop shop for all your puppy's needs and questions. Click here for information.
How are the classes affected by COVID-19?
When permissible, we run in-person group classes with restricted numbers. During lockdowns, our live online classes are held Monday evenings via our private video link which you receive access to upon sign-up. With extended periods at home, this presents a fantastic opportunity to introduce key behaviours to your pets and set them up for success.
Watch the video below to hear what our students say about our courses:
During COVID-19: Smaller Groups and Online Classes
As a result of the current COVID-19 crisis, when permissible we run in-person group classes with restricted numbers, and during periods of lockdown we have our popular online classes. With extended periods at home, this presents a fantastic opportunity to introduce key behaviours to your pets and set them up for success.
In-person group classes
£170.00 (non-refundable)
Classes are 1 hour long and a course, typically, runs for 6 weeks.
Mondays
Nora Grace Hall, Faversham Close, Tring HP23 5BA
Stage 1 Puppies: starts at 7pm
Stage 2 Teens: starts at 8:15pm
Stage 3 Improvers: starts at 8:15pm
Fridays
Hastoe Village Hall, Church Lane, Hastoe HP23 6LU
Stage 1 Puppies: starts at 9:45am
Stage 2 Teens: starts at 11am
Online classes
See my online Learning Hub for more.
Interested in our classes?
Want to be Best In Class? Sign up to our one to one training sessions to get a head start on your group classes.
Please read our Terms & Conditions.
Get Hanne's Book
Playing With Your Dog will help any dog owner work out the games that are best suited for their pet to play throughout his life, from puppyhood to old age. The book also shares some tricks for all ages, group activities, and recommended toys that dogs will enjoy.
Buy now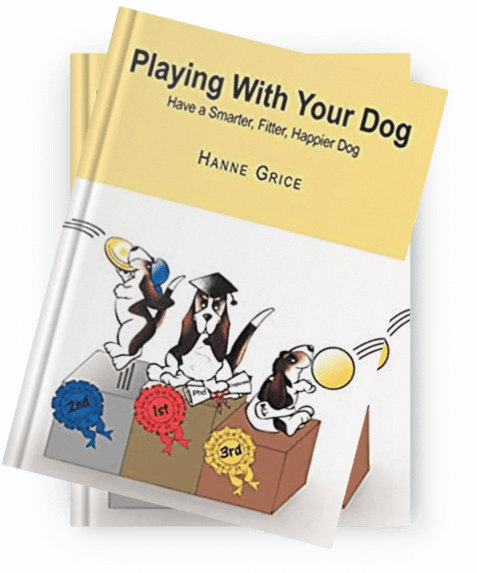 Hanne is such a lovely kind trainer, she is extremely knowledgeable but never makes you feel like you are asking silly questions. She runs her sessions in a fun and engaging way, using only positive, science-based methods. It's really good to see how the training relates to real life scenarios and we have noticed such a difference in our puppy's behaviour having done Puppy & Dog School.
Joanne Wilcox
I loved our Zoom puppy sessions with Hanne. Consistent, fun and manageable! Our 12 week old pup came on leaps and bounds with the training. She recently graduated with her rosette and certificate. Thank you so much and see you for more training in the teenage ages!
Janine Etuazim
Just completed Stage 2 Teens dog training with Sunny our lively Border Collie. We both loved the course – excellent instruction, great insights into dog (and human) behaviour and some fun tricks! Thanks Hanne and I look forward to Stage 3.
David Rollinson
About Hanne
Hanne is a Clinical Animal Behaviourist, trainer, published author, Animal Sciences Lecturer and founder of the multi-award winning company Hanne Grice Pet Training & Behaviour.
News
Read the latest news from Hanne and the team, animal research news and top tips relating to animal behaviour and cognition in companion animals.