Monday Classes are held at: Nora Grace Hall, Faversham Close, Tring HP23 5BA.
Monday Class times: Stage 1 at 7pm, Stage 2 and Stage 3 are at 8.15pm.
Friday Classes are held at: Hastoe Village Hall, Church Lane, Hastoe HP23 6LU.
Friday Class times: Stage 1 at 9.45am, Stage 2 and Stage 3 are at 11am.
Cost: £170 for each 6 week course. Classes are non-refundable as per our Terms & Conditions.
Any questions? Call us today on 07976 743031 or email: [email protected]
To secure your booking, payment must be received upon completion of your booking form below. Preferred payment is via Stripe using the booking form below. However, if you prefer you can pay via BACs upon arrangement.
If you submit a booking through the form below, you will be redirected to a payment form. Once you have submitted your payment details, you will receive an email receipt from Stripe confirming your payment.
Get Hanne's Book
Playing With Your Dog will help any dog owner work out the games that are best suited for their pet to play throughout his life, from puppyhood to old age. The book also shares some tricks for all ages, group activities, and recommended toys that dogs will enjoy.
Buy now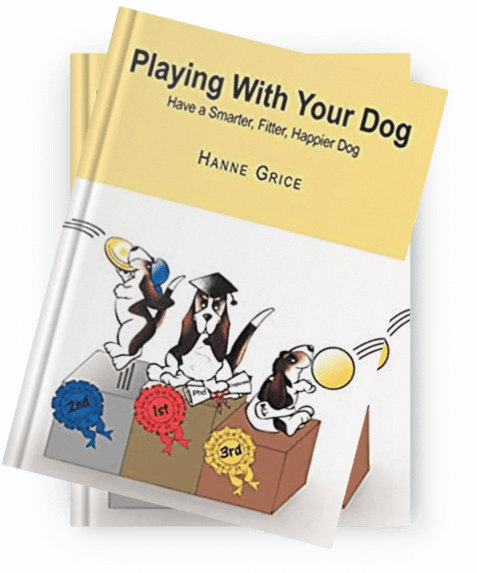 Hanne is such a lovely kind trainer, she is extremely knowledgeable but never makes you feel like you are asking silly questions. She runs her sessions in a fun and engaging way, using only positive, science-based methods. It's really good to see how the training relates to real life scenarios and we have noticed such a difference in our puppy's behaviour having done Puppy & Dog School.
Joanne Wilcox
I loved our Zoom puppy sessions with Hanne. Consistent, fun and manageable! Our 12 week old pup came on leaps and bounds with the training. She recently graduated with her rosette and certificate. Thank you so much and see you for more training in the teenage ages!
Janine Etuazim
Just completed Stage 2 Teens dog training with Sunny our lively Border Collie. We both loved the course – excellent instruction, great insights into dog (and human) behaviour and some fun tricks! Thanks Hanne and I look forward to Stage 3.
David Rollinson
About Hanne
Hanne is a Clinical Animal Behaviourist, trainer, published author, Animal Sciences Lecturer and founder of the multi-award winning company Hanne Grice Pet Training & Behaviour.
News
Read the latest news from Hanne and the team, animal research news and top tips relating to animal behaviour and cognition in companion animals.